On the Road...
BSU Travelling Ministries
Teams - Requesting - Sound Equipment
---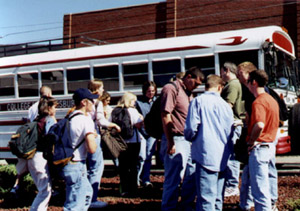 With six separate ministries (Revival Teams, Reflections, Sacred Vision, Creative Ministries, Sidewalk Chalk, and Sound) available for request, someone is on the road about every weekend. Below, you can find out what each group does, their schedule, and take a look at some of their pictures. Further down the page, you can find the information necessary for requesting a team.
---
Requesting a Group or Service
Each group is available upon request with a BSU request form. There are two ways to obtain a request form. The first is to contact Dean Whitaker at:
Baptist Student Union
Team Request
7521 College Station Drive
Williamsburg, KY 40769-7521
(606) 539-4343
You may also download the documents over the internet. The document contains a request form, information on the individual teams, and other information. A team cannot be requested without reading all the request papers and filling out the request forms. The documents are compressed in PDF formatwhich means that you must download Adobe's free Acrobat Reader to view and print them.

If you decide to request a team, return the request to the address above. To download the document, click on the link:
Revival Team Request Document
---
If you wish to request the BSU sound system, contact Dean Whitaker, 539-4343 or Sonny Lethcoe. The system can be setup, run, and torn-down by the BSU sound crew. If you wish to use the equipment without a BSU sound crew member, you must have someone experienced in operating the equipment. Details may be worked out with Dean Whitaker.
Equipment Available:
8- and 16-channel boards
Microphones and mic-stands
CD and Cassette Players
Monitors and Speakers
1/4", XLR, and electrical cables
Equilizer, amplifiers, and MIDIVerb unit
---