Appalachian Ministries
Sharing Christ's love with youth - 1 John 3:18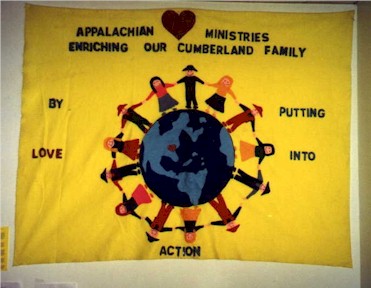 Hi! Have you ever lived in a house that didn't have a bathroom? It might sound crazy to us, but not to the people living in he "hollors" of Whitley County! There are many families in this area who struggle with poverty. not just financially, but spiritually!
That's why we exits!
Appalachian Ministries' mission is to share the gospel of Christ with the children and their families. Cumberland College students and churches work together all year round doing outreach events and activities to share Christ's peace, joy, and unconditional love.
If you're interested in supporting what God is doing through this ministry, why don't you check us out! After all, if it sounds crazy to have a house without a bathroom, it's even crazier for people to live a life without Christ's love!
Call our office at 539-4173 (second floor of the Angel-Dale House) for more details.
Weekly Schedule
Weekly Outreach Program (Backyard Bible Clubs)
All teams meet at 5pm in the Cafeteria Lobby and return at 8pm.

Mondays
Mulberry Community
Tuesdays
Canadatown Community
Wednesdays
Mossy Gap Community
Thursdays
Emlyn Community
Special Kids' Program (work with the special ed. children at Williamsburg Elementary and Whitley Middle Schools):
Teams go out Wednesdays and Fridays at 10am meeting behind the Gatlif Building near the loading zone.

---